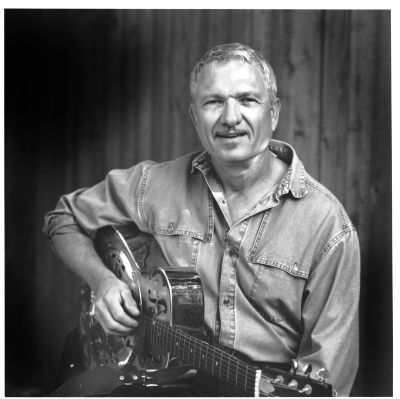 About
'I love procreation' says Robert Burton Hubele, with a smile. As a writer and performer of original blues-jazz, and a storyteller, radio commentator, children's book author, and actor Robert Hubele has a very full life in the creative arts. Robert's life mission, he says, is to 'create love and happiness in life', which he does 'every way I can'. Robert Hubele is from Alberta and has a definite prairie way about him with his ability to spin a good yarn, tell an engaging, humorous story and open into a song. As a songwriter Hubele writes about ordinary things that become extraordinary with just a little extra care. He believes that it is important to use his performances and the stage as a way to generate hope and initiate change and so he writes of the little things that can make a difference. Robert's dad played fiddle at country barn dances and as a young boy Robert often would hold the fiddle like a guitar and try to play. Robert got his start playing music during his first job working for Canadian Pacific Railroad when his redcap friend Butch, who was one of the very few black people around, loaned him his electric guitar and amplifier. He wrote his first song at age 21 and started an avalanche of inspiration that had him writing 5 or 6 songs a week for quite a few years. In retrospect, Robert says 'they all were pretty bad, but I was learning to understand the mechanics of music'. Robert Hubele's earliest influence was the earthy beat and emotional impact of the blues as he played along with recordings of B.B. King, Howlin' Wolf, Willie Dixon, Muddy Waters, and Freddie and Albert King. His introduction to jazz was next in line. This happened through Chuck Tracy, a veteran lounge musician who was Hubele's roommate for a while. Listening to Chuck rehearse, Robert got turned onto music from Tom Waits, Mose Allison and Fats Waller, Bing Crosby, Dean Martin, Benny Goodman, Cab Calloway and Louis Jordan. And there is also an inevitable country influence in Robert's music, which was bound to happen for someone growing up in the prairies where the songs of Hank Williams, Hank Snow, and Marty Robbins are a background to life. When Robert first heard Bonnie Raitt in the early 70s, he absolutely had to take up dobro and learn how to make that ʻslidey sound'. Robert confesses dryly, 'I made a lot of racket for a couple of years until eventually I got the hang of it.' Over time his high quantity was replaced by high quality. As a songwriter he's won the 1984 Canadian Song Writing Contest and has been appointed to the Independent Song Writing Hall of Fame. Robert Hubele's unique songs and style caught the attention of the music industry in the 80s and 90s when he was packaged and marketed as a pop artist by Attic/A&M, his record company at the time. Performances on big stages throughout North America, radio airplay and video airplay on MuchMusic were frequent occurrences. # Nowadays Robert Hubele makes his home in Vancouver's vibrant West End and has just launched his tenth album of original music, She Won't Talk To Me, a collection of 11 songs themed around life,death, travel, and romance. His experience and skill is clear in this masterful album which discreetly involves the listener in stories of regular folks' traveling in and out of the celebrated state of love. Robert Burton Hubele's social song writing technique is at its best in his New Release: She Won't Talk To Me where it intersects with marvellous stories for what is a truly great work of art. As a mature and engaging artist for whom music continues to be his full-time gig, Robert's life experience runs a broad gamut of media and venues: CBC Radio guest, Host and Bandleader for numerous music clubs and song writing events, various television performances, and movie acting. Whether he's a band-leading crooner on a big stage, in a classy night club with a jazz trio, or playing to intimate house concerts as a solo troubadour, Robert Burton Hubele consistently brings his engaging wit and wisdom to every performance he gives and still leaves audiences hungry for more. 8 8 8
Highlights
Genre:
Americana, Blues, Country, Jazz, Singer/Songwriter
Appeals most (but not limited) to:
Women from 18 to 80.
Top Stages Played *
Sylvia Hotel-Vancouver's West End
2016/06
Steveston Folk Guild- Steveston, BC
2016/05
Mikey's On 12 Ave.SW-Calgary
2017/10
* Unverified
Activity
Events booked with Lumin
2
Availability
Calgary-Thursdays, Fridays, Saturdays day or evening. Other cities as required.
Upcoming Events
No upcoming events